Jun 29, 2016 - Direction, Brand, Web, App
Designing Coinbase - Clarity and Trust for Bitcoin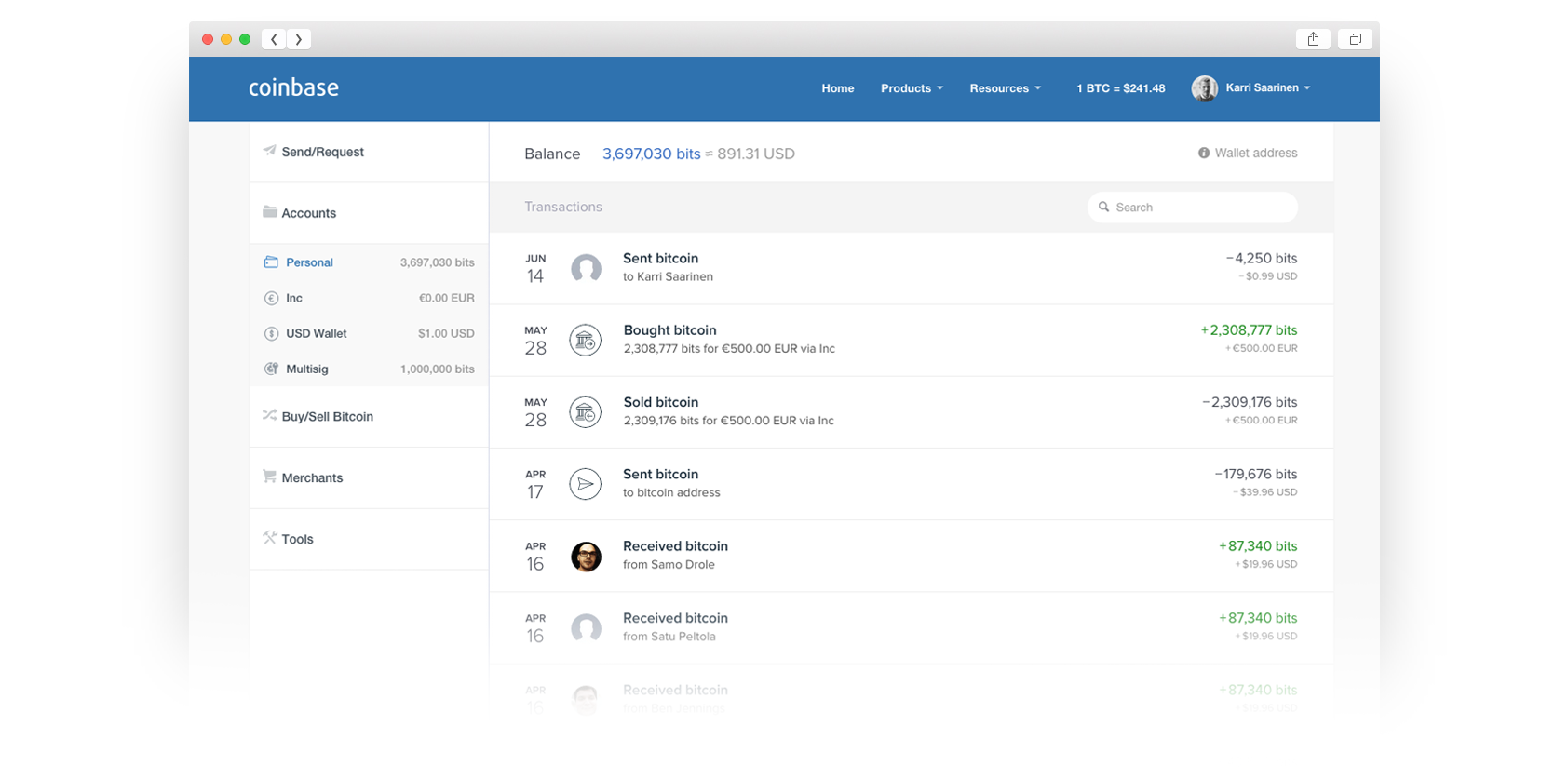 Introduction
Coinbase was founded in May 2012 to help people use and securely store their bitcoin.By the time I joined them, the team had been developing the product without any designers or much emphasis on design.
Also in those early days, very few bitcoin companies had thought much about design. Many products and services in the market were functional for early adopters, but not necessarily delightful to use or accessible to a broader audience. Coinbase's mission had always been oriented around making bitcoin more accessible, secure and simple. It was clear to me that design would be be integral to achieving that mission.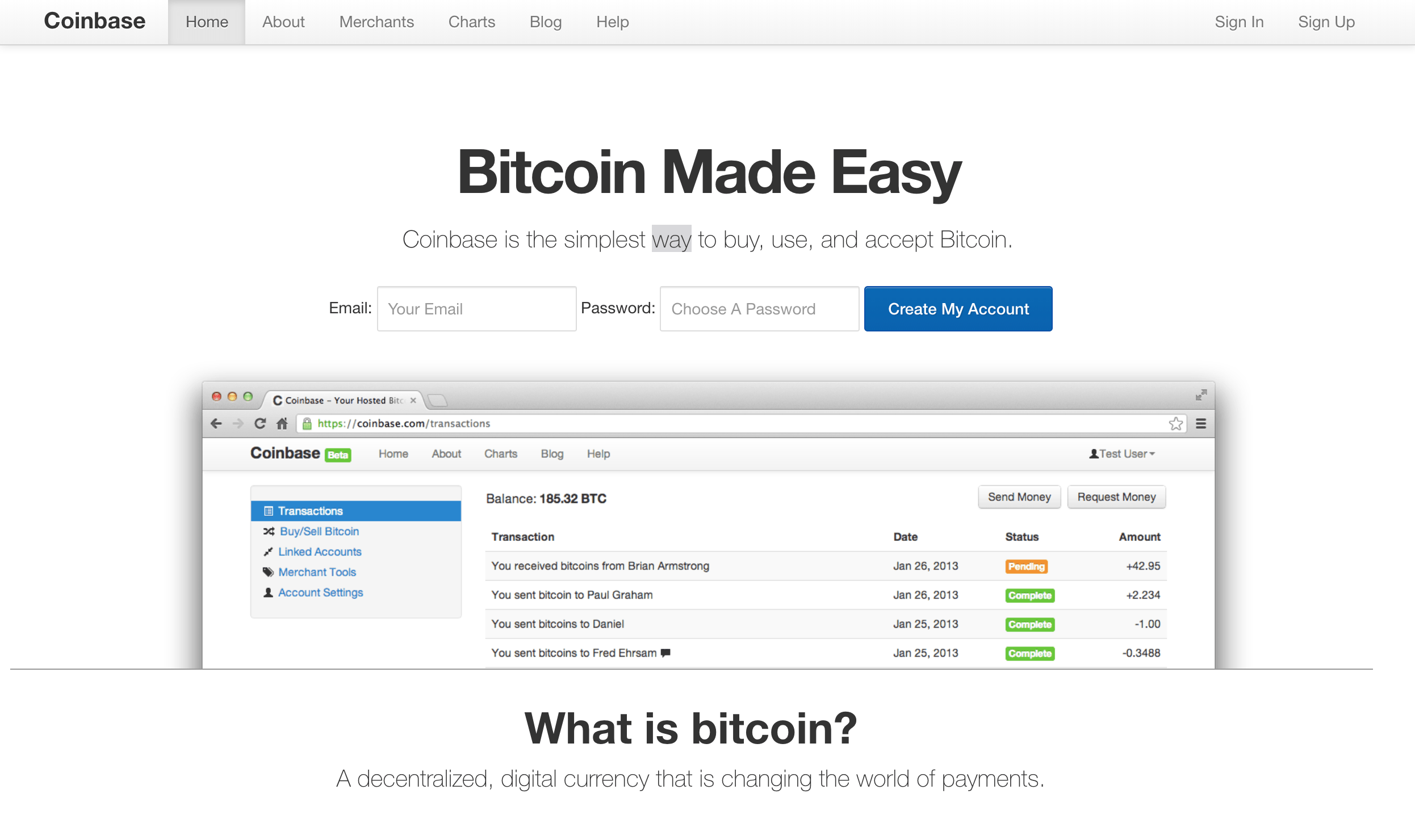 Coinbase homepage in 2013
---
The Brand & Marketing
Though it depends on the company and market, my view on branding for new tech startups is that simplicity is the goal. Odds are, the company and products will go through many transformations, and the brand will need to evolve as well. Spending lot of time and energy trying to find the perfect brand or logo to communicate your story (which you don't have yet) will not help you to achieve product-market fit. To build something people really want, you have to iterate.
So while branding might not be the most important thing, it's still important. The brand serves both internal and external objectives. A strong brand gives customers something to remember your service by, creates trust, and help communicates your values. Brand is also plays a symbolic role, giving employees visual and other cues to rally around, reminding them of the Company's mission.
As a financial company, we wanted communicate trust, humanness, modernity and simplicity.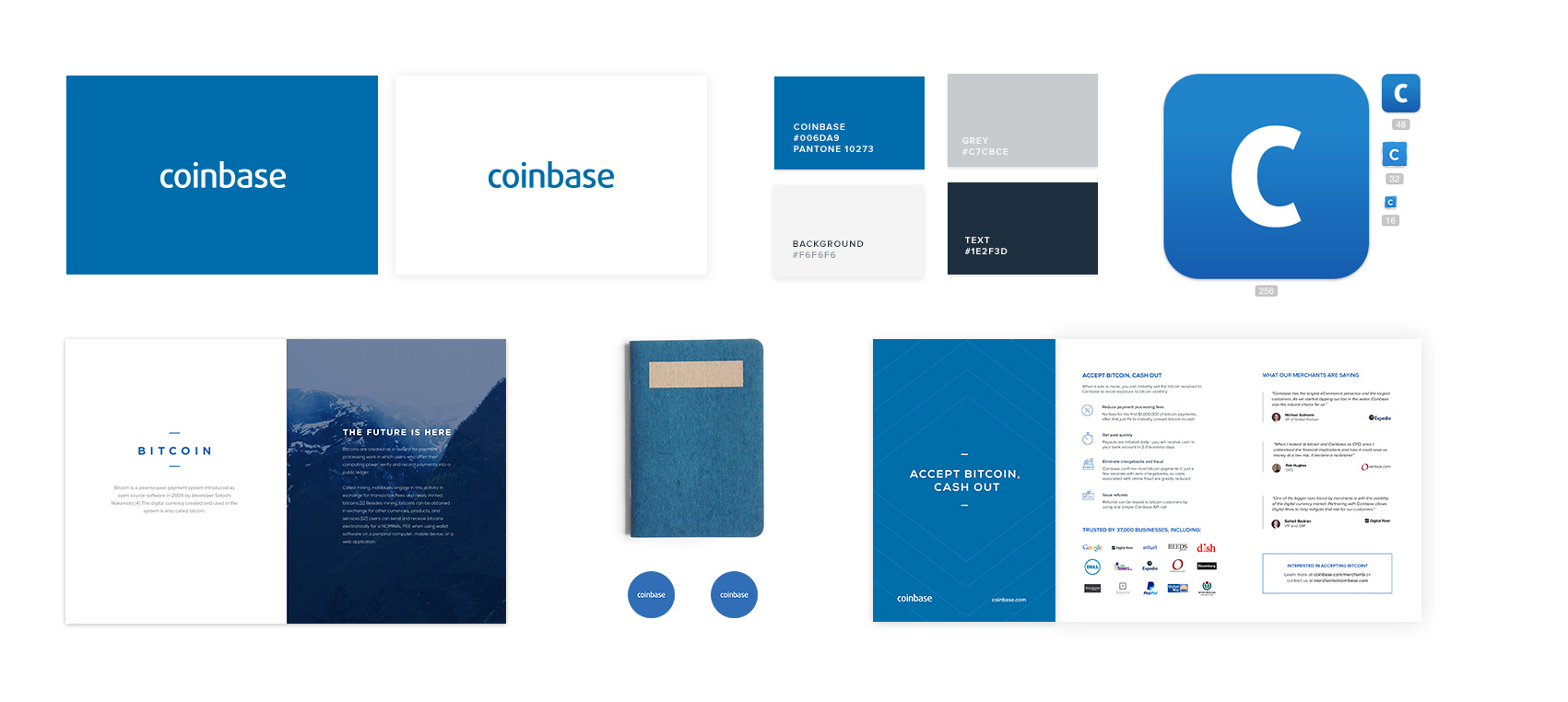 Soon after we had the brand and direction in place, I went on to design our marketing pages. You can explore the full site at Coinbase.com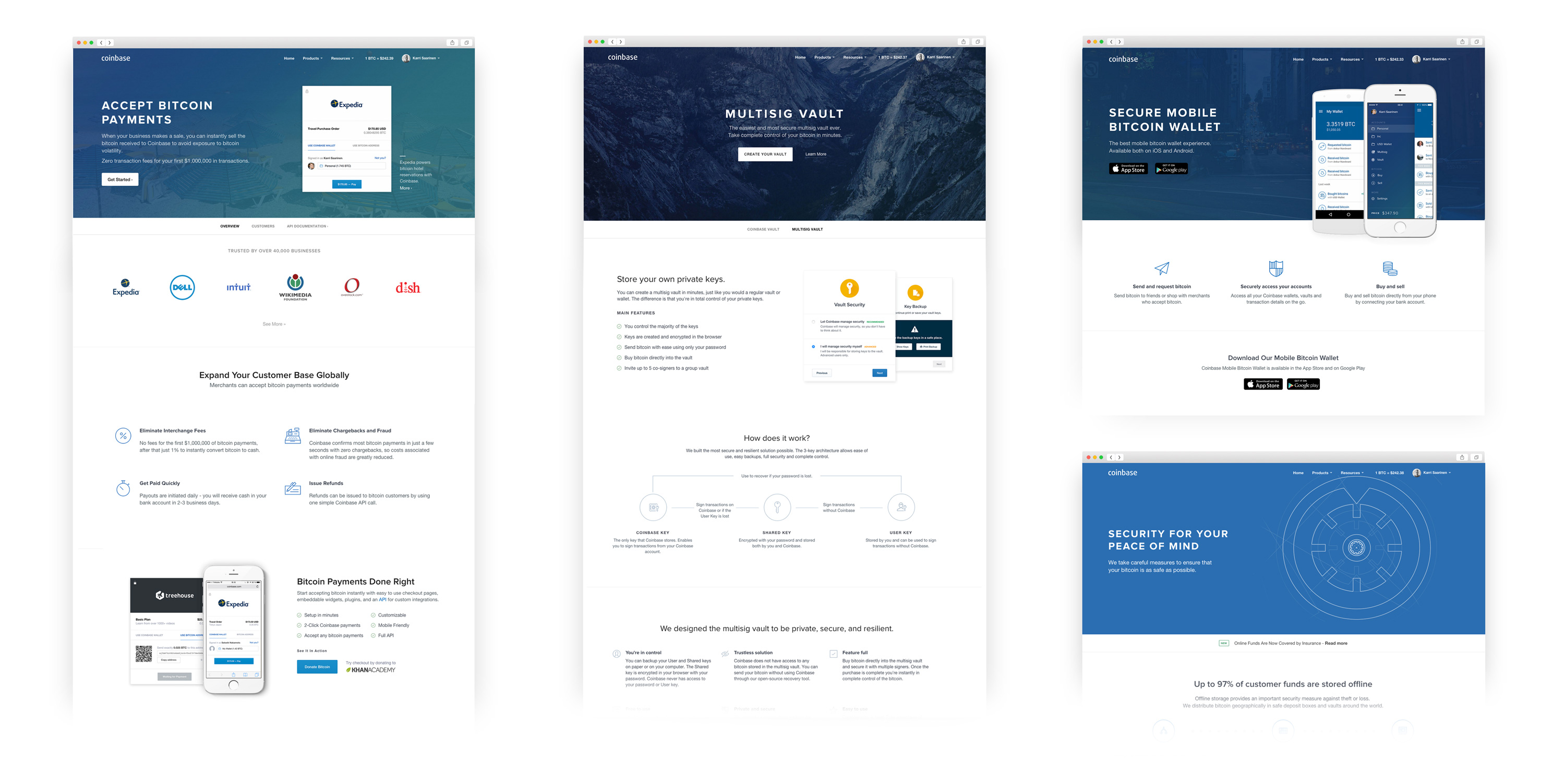 iOS & Android Apps
In 2012, Coinbase had mobile apps on the market, but they were quite basic, both in terms of functionality and design. Around October 2014, we began to redesign and rebuild the apps. The new apps were launched in January 2015, and are currently highly rated (★★★★), are are some of the top-most rated and popular apps in the bitcoin and financial apps categories in the Google & Apple App Stores.
Mobile Design process
Our key objective was to bring the app to same quality bar with our web product, both in terms of features and design. We embarked on an ambitious quest to redesign and rebuild the apps in under three months.
The process began by sketching out the app, and progressed to iterating on a few Framer prototypes with our iOS and Android engineers. We explored a multitude of different flows and styles, and after few rounds of iteration, I had a solid base of user flows to work from. We wanted to launch the new apps on both platforms simultaneously, so I first designed the app for iOS and finally, adapted it to Android with the material design guidelines.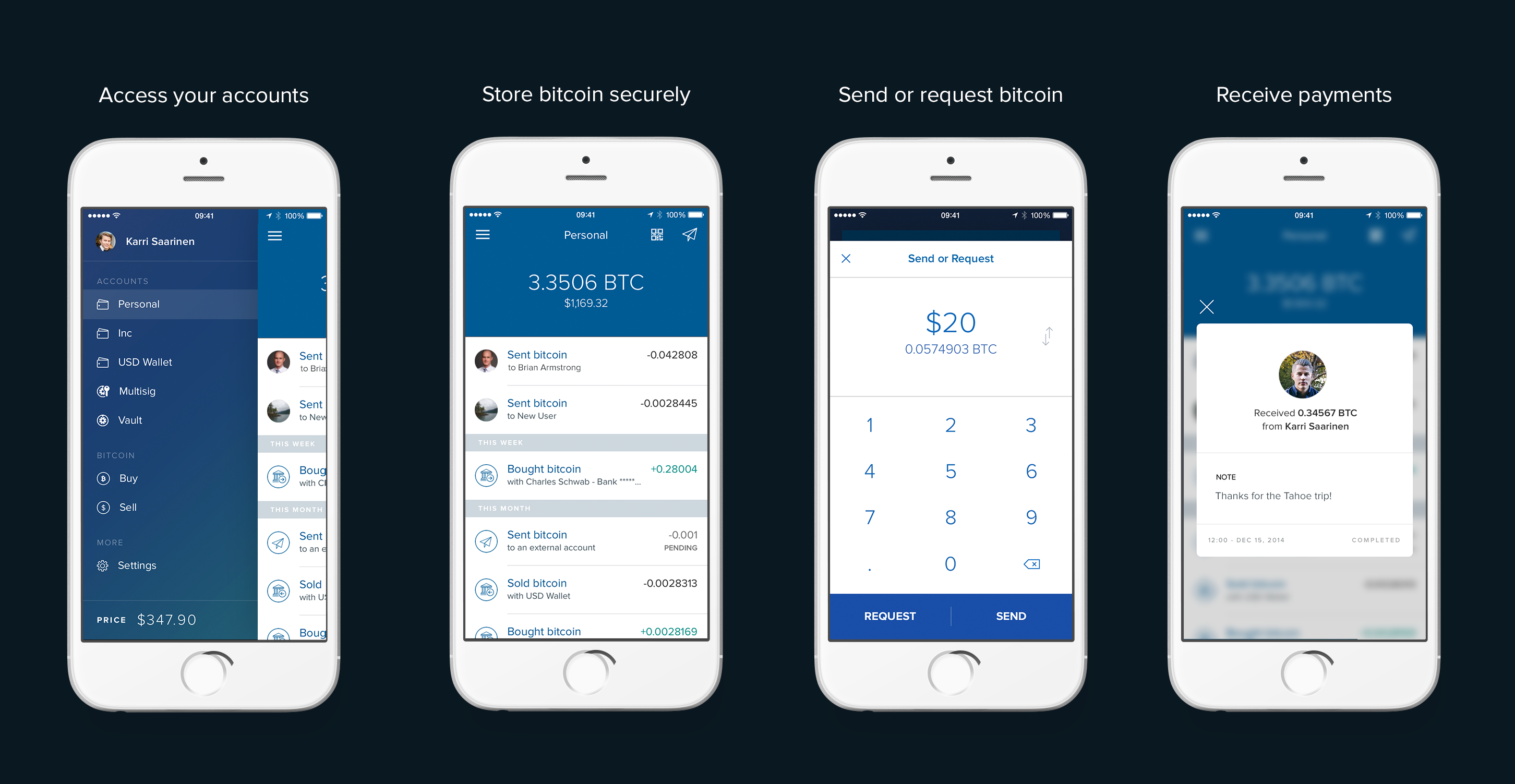 iOS: Details and Interactions
---
Navigation and Hierarchy
I used Framer to prototype a few different navigation options, and we decided to go with a sidebar navigation for individual accounts and buy & sell.
This would allow the user to quickly see their main account's balance, recent transactions and make the primary actions accessible, such as send, request and scan.
Transactions on the other hand, would open as individual interactive cards.
---
Send & Request
The previous send / request money feature was long form that users had to fill, requiring them to make several decisions before submitting. I wanted to make the process simpler and more inviting by breaking it up into steps.
In the first step, you would now enter the amount, either in your native currency or in bitcoin, and choose whether you want to send or request funds.
The animation was inspired by the Mail app, which pushes the underlying screen back, and brings up a new layer on top.
---
Web Product
Most of my time went to designing the web app and features for it, including:
Account View & Details
Transactions are the core part of any financial application. My goal was both to make them more clear, approachable and delightful than other products in the market.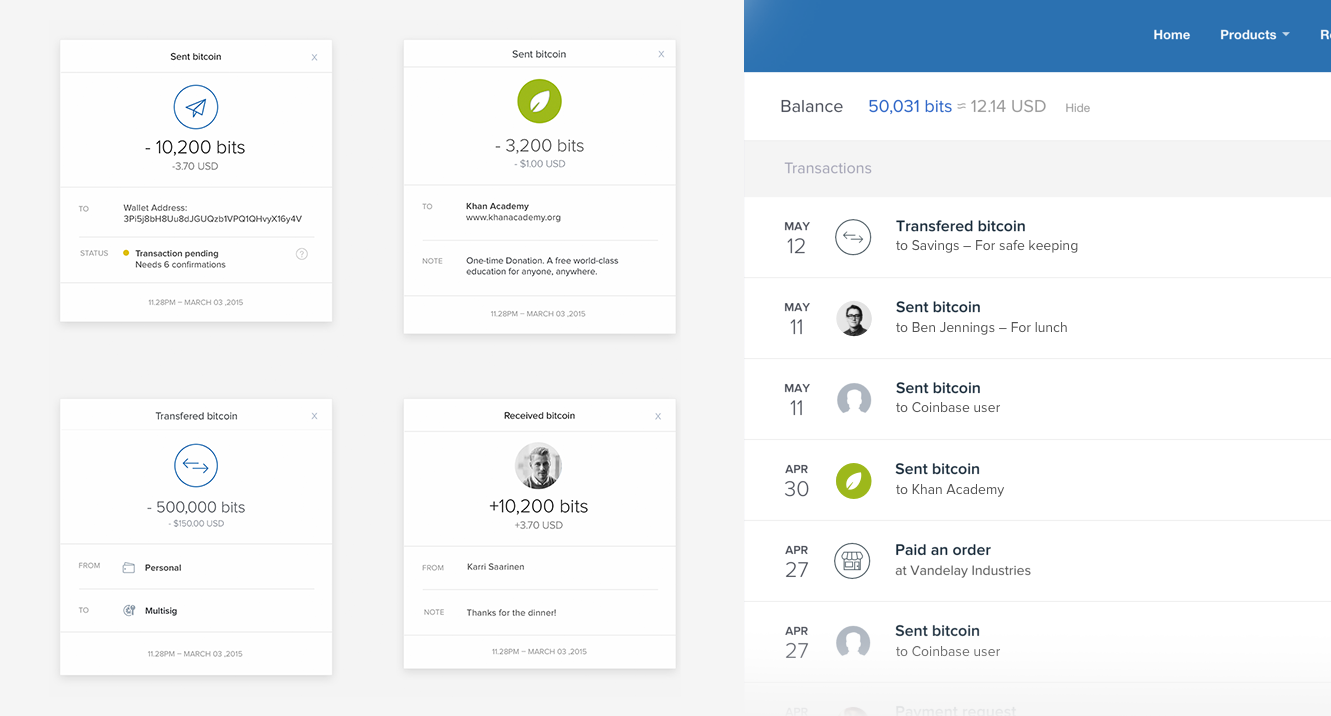 Vault
Coinbase Vault was an interesting and challenging exercise. We wanted to make something technically quite complicated (a multi-party, multi-signature vault) into something accessible to mainstream users. Some of the advanced security features included timed, alerted withdrawals, with respective notifications via email and sms, with the capability to cancel withdrawals (by the way, something regular banks might consider offering someday).
Merchant tools: In addition to consumer features, Coinbase offers tools for businesses to accept payments in bitcoin. Our goal was create the most approachable tool for companies and sellers around the world. The new tools launched in July 2014 and are now used by 43,000 merchants, including companies like Dell, Expedia and Wikipedia.
Closing thoughts
As if often the case with startups, lots of the work was done with aggressive timelines and sometimes with changing requirements. I found that the "design work" was about much more than logos or user experiences, it was also about building the company's design culture. This included teaching people about the value of design, hiring a design team [2], and helping to make the bitcoin industry more design friendly. Since Coinbase, there have been several bitcoin companies (21.co, Circle) that seem to have a similar respect for design and what it can do both for them and the broader industry.
It was an interesting and rewarding experience to help build the design foundation for a high growth company in a such new and a sometimes turbulent market. Growing and managing the design team was also a rewarding and fun experience that I'll not soon forget.